General information about the exhibition:
Introduction
China Import and Export Fair, also known as the Canton Fair, is held biannually in Guangzhou every spring and autumn, with a history of 60 years since 1957. The Fair is a comprehensive one with the longest history, the highest level, the largest scale, the most complete exhibit variety, the broadest distribution of overseas buyers and the greatest business turnover in China.
Website: http://www.cantonfair.org.cn/
China TJK Booth No.: 1.1J25-28
Date: Apr. 15-19, 2019
Venue: China Import and Export Fair Complex
Address: No. 382, Yuejiang Zhong Road, Guangzhou 510335, china
Exhibition contact
Name: Mr. John Zhang, Mr. Mark Ma
Tel: +86 13910833898, +86 13121998800
Email: info3@chinatjk.com
You may contact him in advance in order for better arrangement of the meeting.
Hall 1.1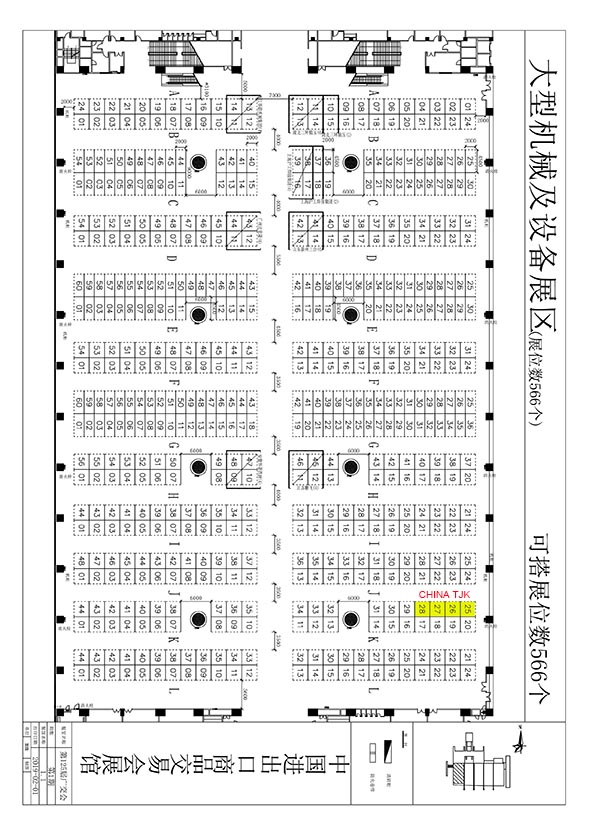 The recommended equipment from China TJK:

Rebar Shearing Line XQ120
Features:
1. Advanced system, compact and high efficient process
CNC steel rebar shearing line adopts advanced programmable CNC and PLC system as the core equipment, more stable and more efficient running, strong expand capacity.
2. Flexible application, wide range of application
Small bars of steel cut more flexible, less floor space, suitable for wide steel specifications and small quantities of steel shearing. This type of rebar shearing line can be widely used in construction, highway and other industries, applicable to a variety of different lengths of steel work, more applicable for more specifications and small quantities of reinforcing bar processing.
3. Efficiency of technological innovation, more stable performance
4. Modular combinations design concepts
Rebar Bending Line G2L32E-2
Features:
1. Advanced control systems and superior manoeuvrability
2. Dual independent heads make working more efficiently
3. Free sizing, detail patent reform
Truss Girder Welding Machine SJL320T-18/36
1. Truss step mechanism consists of a CNC servo motor control, precision ++ high accuracy, easy to adjust
automatic wire frame to prevent line wire bending body, extremely high accuracy and stability of shortcut (patented)
2. User-friendly control interface, easy to use, intuitive, intelligent
3. Electrical components are provided by Siemens, Yaskawa, stable and reliable
4. Intelligent fault detection and alarm system for easy maintenance
5. Automatic steel truss anchor bend forming mechanism and bending precision
6. Complete production management system, easy to operate, fast production
7. Control system: Siemens, Mitsubishi and Panasonic
For more category, please check the following popular products from TJK Machinery:
Wire Drawing Machine
PILE CAGE WELDING MACHINE HL1500B-12
Stirrup Bender WG12D-5
Wire Straightening and Cutting Machine GT5-12Q
WIRE COLD ROLLING MACHINE LZ-9
Wire Mesh Welding Machine GWCP2400/2800/3300JZ-B